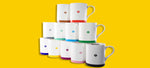 With Father's Day fast approaching (Sunday 16th June this year), why not take advantage of our 15% off Father's Day gifts at lucollections.com. We have some great gift ideas for the perfect Father's day present, from our Tube line Mugs, to Tea Towels and Travel Accessories.
Father's Day is the perfect time to celebrate that special bond that you have with your old man. Looking back on all the fun times and adventures you've had together. Your first time on the tube, exploring the big city, just you and him. Why not celebrate those memories by treating him to a Tube Line Mug, featuring the colours of the London Underground. Or what about a Tube Line Tea Towel for your Dad - the self-professed chef? We're treating you to 15% OFF EVERYTHING so you can treat him! 
Use code FATHER15 at the checkout to receive 15% Off Your Order! 
Our Father's Day promotion ends on Thursday 13th June 2019. The last day to order for standard UK delivery is Tuesday 11th June and for next day delivery Thursday 13th June.
So what are you waiting for? Make this Father's Day extra special and memorable with some super London gifts. Shop now at lucollections.com for the perfect Father's Day gift!