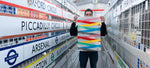 At London Underground Collections (LU Collections), everything we do is underpinned by three guiding principles: simple design, rigorous attention to detail and the ability to distribute to an extensive retail network. We work hard to streamline the design and manufacturing process, allowing us to create low-priced, high-quality products that are beautifully simple and stylish.
Under official license from Transport for London, we have designed two new collections and developed product ranges across homeware, travel, stationery and gifts. Phase one of our two opening collections features a timeless selection of innovative products based on two quintessentially London styles, including mugs, tea towels, luggage tags and stationery, with further ranges being launched next year. 
Introducing our new collections, The Tube Line Collection and the Johnston 100 Collection.
The Tube Line Collection incorporates the simplicity of the iconic London Underground "roundel" with the quintessential colour palette of the London Underground tube lines. The 'roundel' is the symbol of the London Underground and it is instantly recognisable around the world. Equally, the millions of travellers using the London Underground identify each of the different lines simply by the colour connected to it.
The much anticipated Elizabeth Line will be represented by the colour purple (pantone 266C), and to celebrate this, we have designed the Elizabeth Line Collection, as part of our new Tube Line Collection.
Join us in celebrating the addition of the Elizabeth Line to London - Our Elizabeth Line tea towel adds a splash of colour to your kitchen!
The Johnston 100 Collection is an ageless, modern and beautiful collection featuring Johnston Sans, one of the most recognisable typefaces in the world. Created by the designer Edward Johnston in 1916, this typeface unified signage across the London Underground network.  
In its simplicity and style, Edward Johnston unknowingly produced one of the world's most perennial corporate identities. More than a hundred years on, in commemoration of its centenary, the Johnston Sans has been brought up to date with the creation of the Johnston 100; adding symbols, like the # and @, to reflect the digital world in which we now live.
Our designs celebrate this beautiful, iconic typeface and its arrival into a new era. View our collections and see how we are celebrating over 100 years of the Johnston 100.
Both collections are perfect for adding a touch of colour to your home or office space, whilst celebrating the iconic London Underground. Why not celebrate your love of all things London and brighten up your office space with notebooks or pencil setsfrom our Tube Line Collectionand our Johnston 100 Collection?