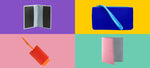 We've just launched our first competition of 2020, find out more here > JANUARY COMPETITION | 2020
In this month's competition we have a fantastic travel prize for you. Our January Travel Competition gives you the chance to win a London Underground wallet, London Underground Luggage Tag, London Underground Small Zipped Pouch and London Underground Passport Cover in any choice of colour across our range. THIS PRIZE IS WORTH £45+!!!!
The competition winner will receive their choice of colour, receiving one of each of our travel range products so there's something for everyone. At LU Collections we take great pride in offering our stunning products in a vast array of colours, styles and sizes to suit any style and you'll be able to choose any four of our travel range if you win!